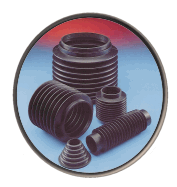 VAJ bellows type rubber protectors are made of single-piece construction without joints or seams when the length permits. Easy to fit, they guarantee full protection for any mechanical part without restricting its movement. They are made to pattern in any shape or size. The quality of our protectors is a guarantee of efficiency and long life.
VAJ bellows type protectors are made to customer's designs in the following materials: mineral oil and emulsion resistant synthetic rubber; natural rubber; neoprene; silicone. When making inquiries or ordering pieces specify measurements in accordance with the table below.
BELLOWS TYPE RUBBER PROTECTORS – REFERENCE DRAWING

Di
Diameter, inside
De
Diameter, outside
Lmax
maximum opening
Lmin
minimum closure
h
height of collars *
Rubberized And Thermo-Welded Bellows
Our protection fabric bellows are built based on the customer's drawing in every form and dimension. These products are vertical moving and require the application of pantographs or limiting strips to open and close the coils evenly.
These Ameropean products are manufactured in the following materials:
* Neoprene fabric resistant to oils and emulsions
* Aluminized glass fabric resistant to high temperatures
* Resined and anti-dust fabric
* PVC and thermo-welded polyurethane
* NBR coated polyester fabric